2022 Recap
I can hardly imagine any area of my life that wasn't fucked up or wasn't under risk this year. My future, my goals and plans, and pretty much everything. That was the emotional aftertaste of 2022.
I can hardly imagine any area of my life that wasn't fucked up or wasn't under risk this year. My future, my goals and plans, and pretty much everything.
All was ruined.
That was the emotional aftertaste of 2022.
Paradoxically, when I started to decompose the year into events that took place in my life and when I looked at them from a rational point of view, it turned out to be the opposite.
Highlights
Moved to Portugal
This was an unexpected kick-flip day in my life. We moved to Portugal.
More details in the story about my emergency relocation.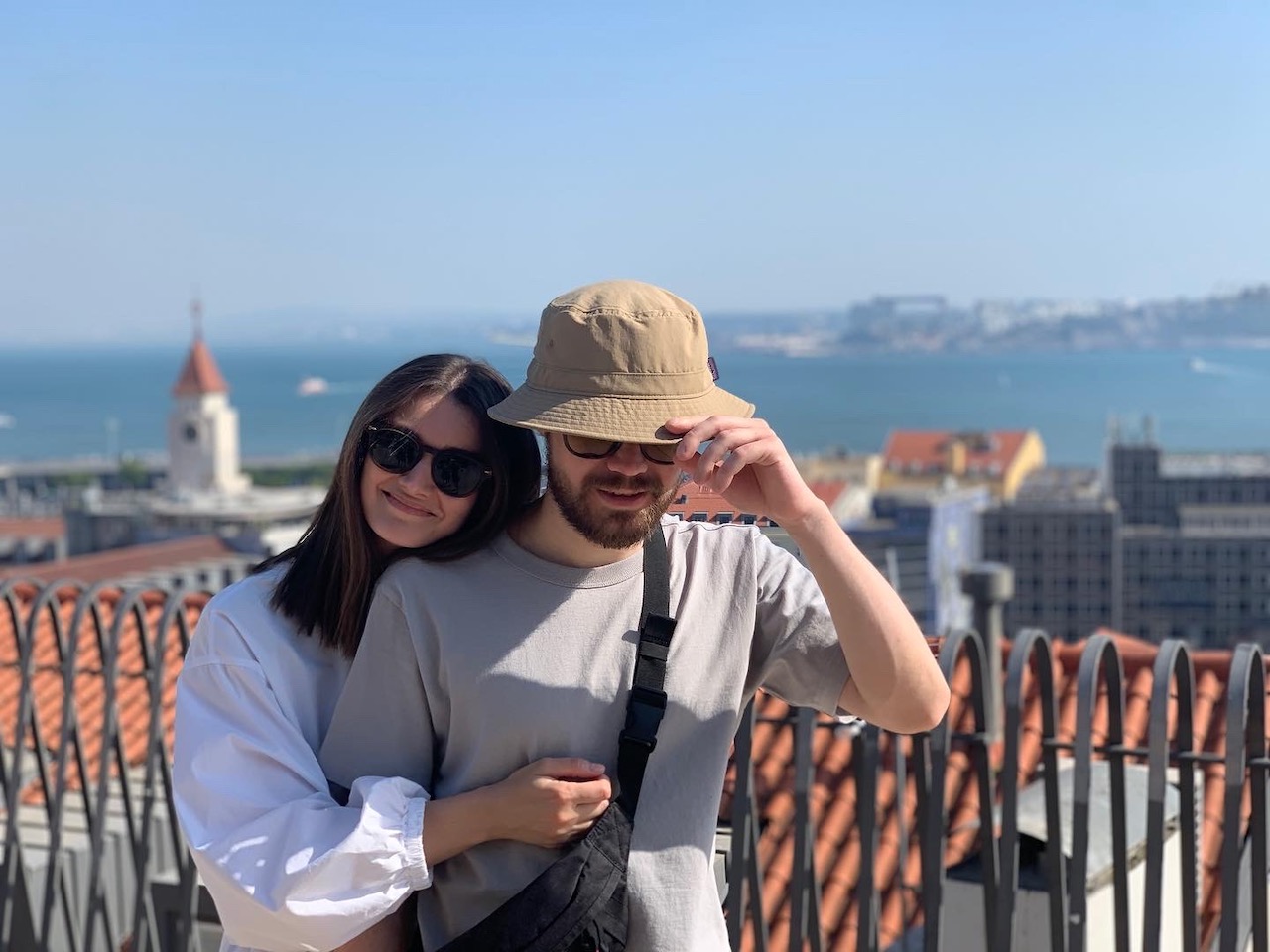 Got Married
After 5 years of fun, we've finally got married with Ju.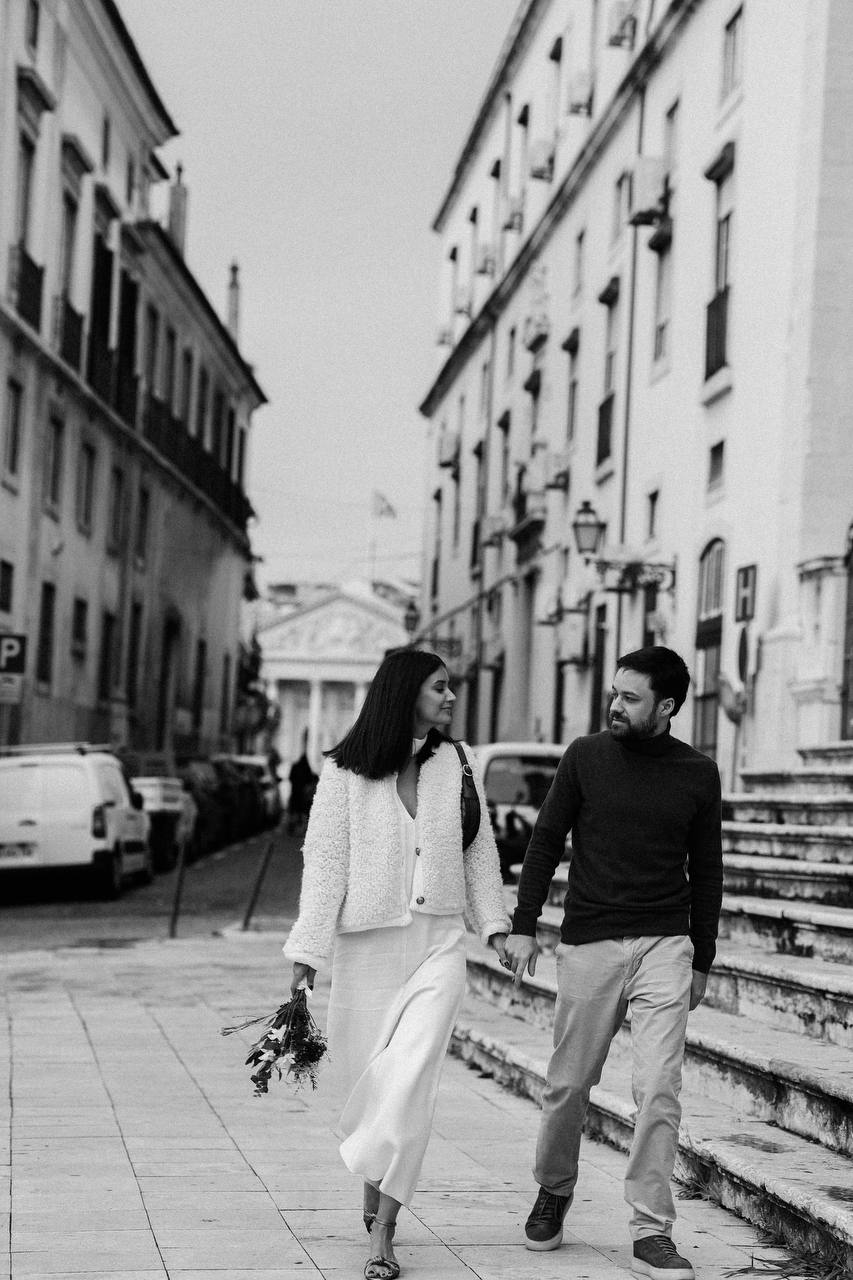 Vacations
I haven't spent vacations with Mom or Granny since I was probably 15.
Several years ago, I started to dream about a plan to go with my Grand Ma somewhere together - a kind of long trip. But not too long, because my Granny is over 80.
After the pandemic breakout, my tiny dream turned almost impossible. Then things got even worse after the war breakout.
Despite everything, we did an incredible job in dealing with COVID-19 in the context of safety. Good enough that I got calm to give a green light for my G's travels.
After a long discussion, my 83yo Granny assured us that an overnight train trip and a couple of flights with an overall distance of 5000km is an easy game for her.
Finally, I bought tickets, booked all the stuff and organized a trip for my Mom, Granny and Ju's Mom to Lisbon.
We all stayed in Lisbon for a while, and then I rented a house on the shore of the Atlantic Ocean not far from Lisbon, and we moved there.
Those are the memories I will take with me for my entire life.
Work-life Balance
It all looked very promising at the beginning of the year.
Since we finally overcame the pandemic, I planned to carry out regular family events, hand out with friends, give hugs, travel again, and do other things from normal life.
Then my plans got suddenly ruined because of the war and my emergency relocation.
My intentions to spend more time with family and friends sound more like a joke now when almost all of them are thousands of km away.
Sad, but this is a new reality to deal with.
All my little habits and rituals I loved so much had to be replaced and reinvented.
My work-life balance which has never been perfect got totally destroyed this year leaving me overwhelmed with work and a HUGE pile of new problems to carry out. Paperwork, bureaucracy, and all the fancy things of a new life in a new place.
Plans for 2023
Now I'm trying hard to fix my daily routine and make it enjoyable like it used to be.
Slowly moving towards:
Minimising time-waste habits
Getting out of my home office clamshell
Enriching day-to-day routine with small yet fancy experiences
Taking a proper rest during weekends
Freelance
By contrast with the things going on and the overall uncertainty level, my freelance work this year felt like a tiny island of stability. I've been working on the same project all year long. Rather calm and steady.
By contrast with the things going on around me it sometimes felt as if I wasn't making any progress and got stuck.
At the end of the year, I was happy (and pretty much surprised) to find out that I hit the freelance income goal that I had set a year before. Meaning that I've been doing well all year long!
Looking back now, I realize how crucially important my work was in keeping me sane during the past year.
Plans for 2023
Taking into account the ongoing (or upcoming) recession I won't be against another smooth year of freelance.
Investments
This year was probably one of the hardest years in the history of world finance of the last 100 years.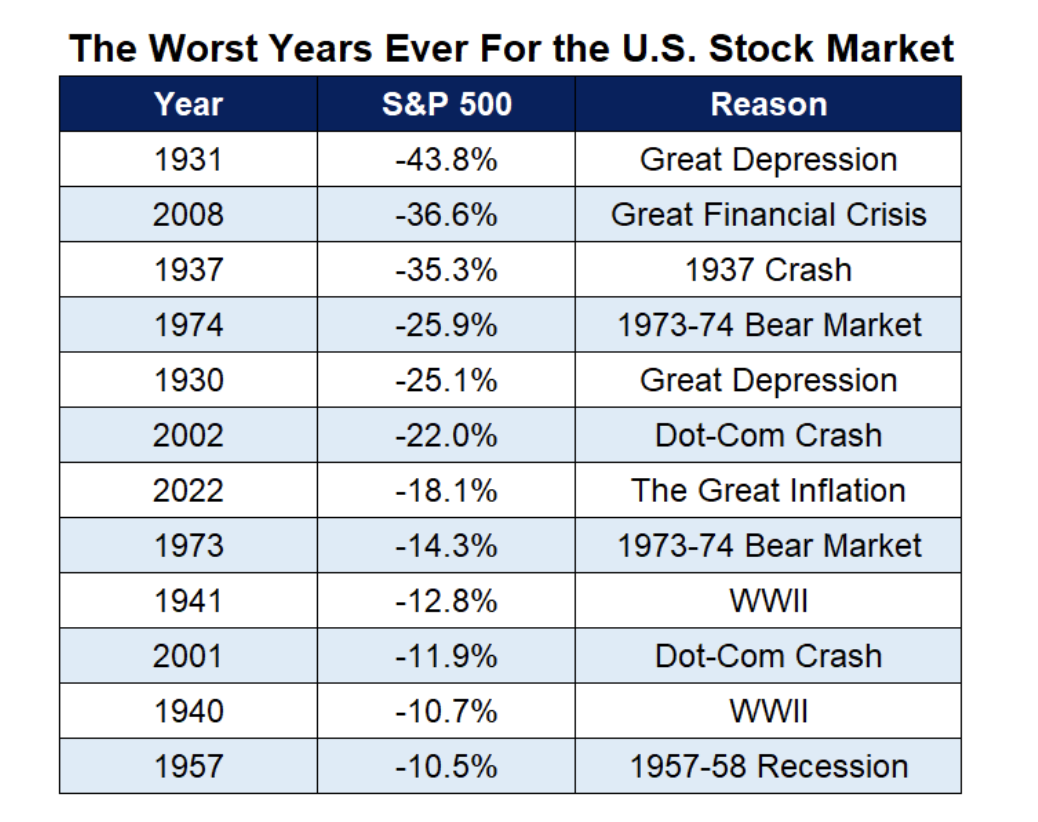 There was literally no way to hide from a drawdown in 2022 other than some kind of active trading which is an unacceptable level of gambling for us all, isn't it?
Apparently, my investment portfolio was not an outlier here.As a matter of fact, if you invest long-term there is almost no way to save your ass from years like this.
There was almost no financial asset class in the world that wasn't down in 2022 except probably some of the commodities, which are not typically considered long-term investment assets and not something I usually invest in.
Stocks and bonds of all kinds, crypto, gold, silver — all is down:
S&P500: -19%  (SPDR S&P 500 ETF TRUST ETF - SPY)
Small cap stocks: -17% (Vanguard Small Cap ETF - VB)
Mid cap stocks: -18% (Vanguard Mid Cap ETF - VO)
Large cap stocks: -21% (Vanguard Large Cap ETF - VV)
Value Stocks: -4,5%  (Vanguard Value ETF  - VTV)
Growth Stocks: -33%  (Vanguard Value ETF  - VUG)
Long term Treasury Bonds: - 32%  (iShares 20+ Year Treasury Bond ETF - TLT)
Mid term Treasury Bonds:  -16% (iShares 7-10 Year Treasury Bond ETF - IEF)
Short term Treasury Bonds:  -5% (iShares 1-3 Year Treasury Bond ETF - SHY)
Mid term Corporate Bonds:  -16,5% (Vanguard Mid-Term Corporate Bond ETF - VCIT)
Short term Corporate Bonds:  -7,5% (Vanguard Short-Term Corporate Bond ETF - VCSH)
Commodities Diversified: +22%  (iShares S&P GSCI Commodity-Indexed Trust -  GSG)
Gold: -1% (SPDR Gold Shares - GLD)
Silver:  +3% (iShares Silver Trust - SLV)
BTC:  -65%
ETH: -68%
However, I don't even think of being disappointed.
Why?
Because the worst thing in long-term investments is unrecoverable ruin risk that happens once in a decade and looks exactly like 2022. The only fact that my portfolio survived 2022 is great news.
Believe it or not, but for me, this financial apocalypse has passed almost unnoticed, because I was totally pissed off by the war.
Hopes For 2023
Disclaimer: not a financial advice.
Here is my calmness recipe.
If we look at the historical drawdowns during different kinds of crisis short and long-term, we would see that even the most dramatic drawdowns are followed by good times sooner or later: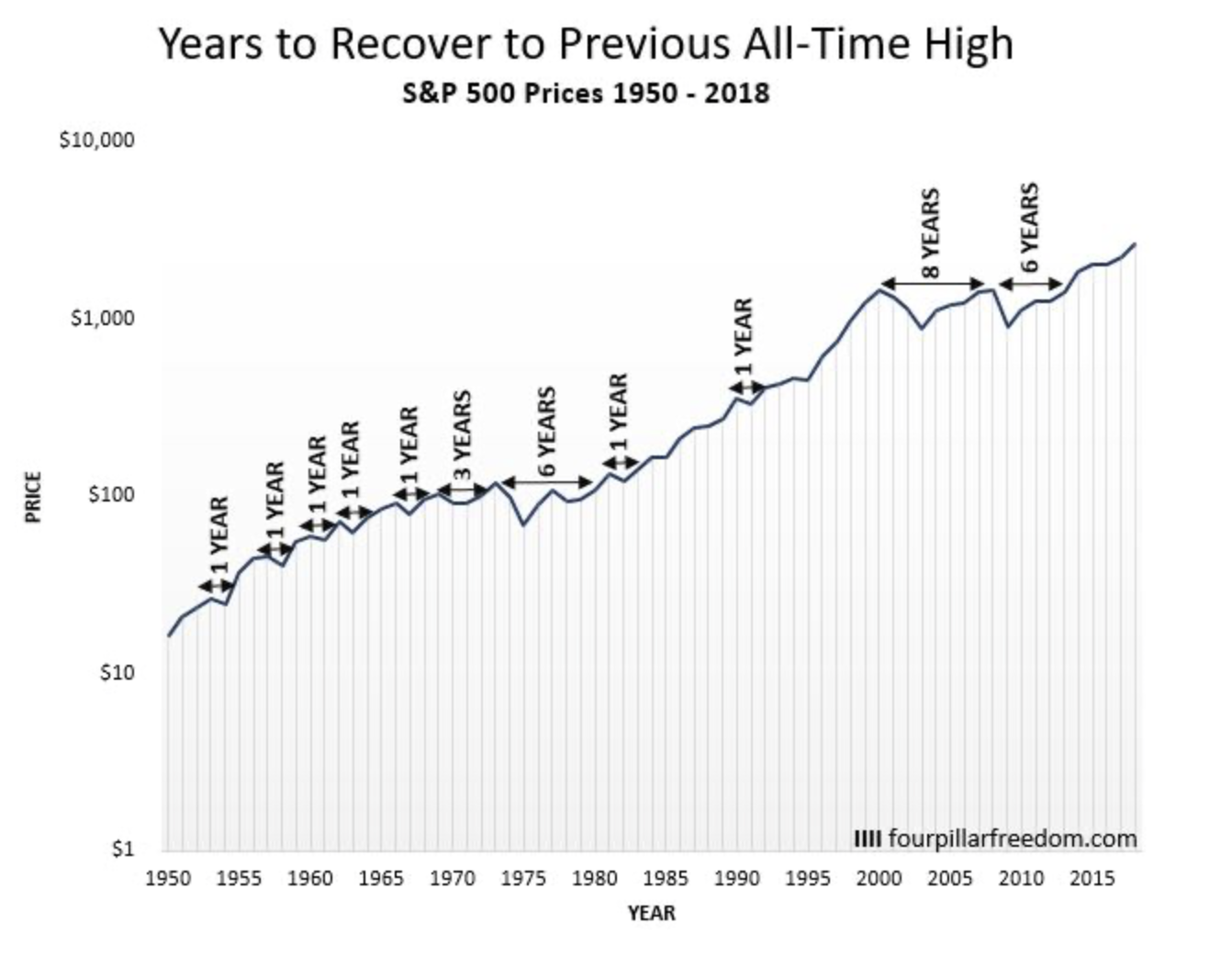 Even though historical prices are not the best predictors of the future (very bad in fact, like almost all the other possible predictors). At least we can find out how bad things are going on now by comparing it to past events.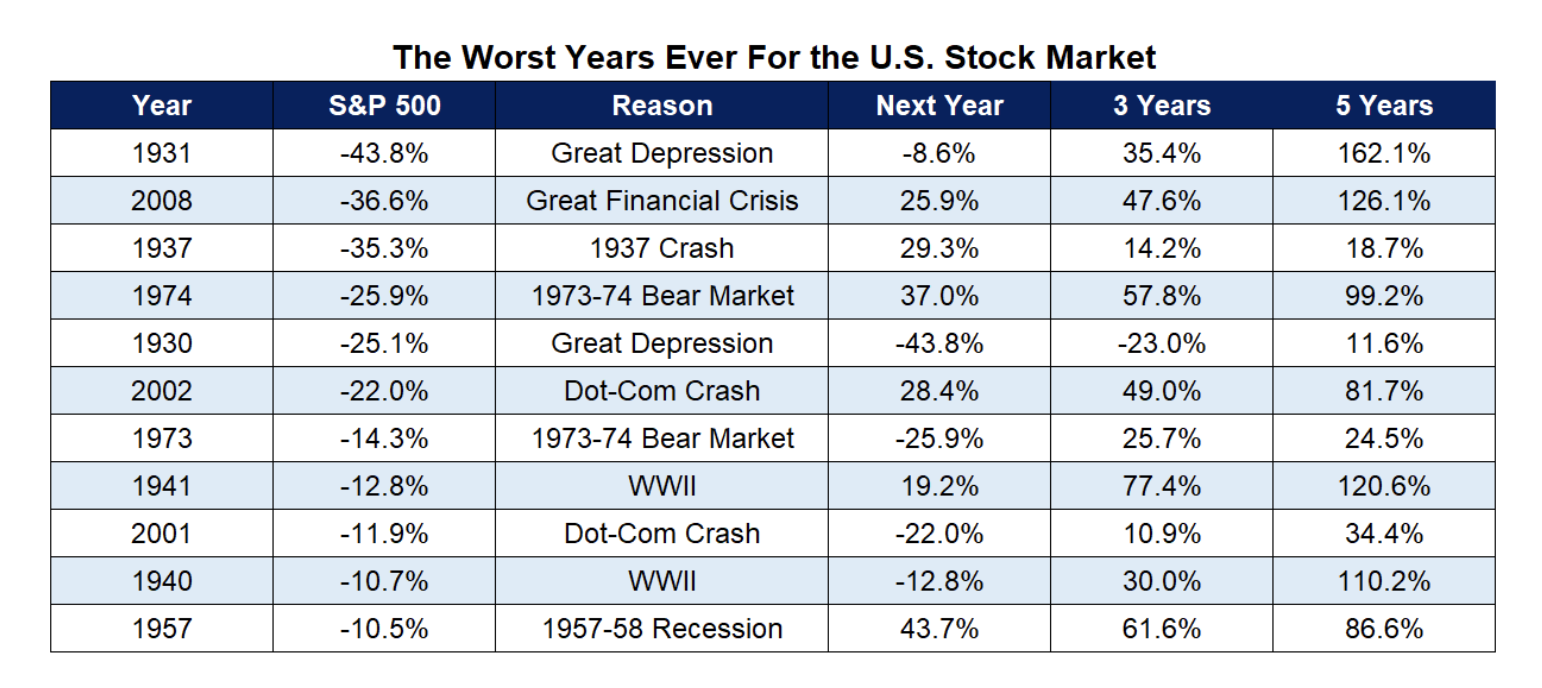 Anyway, I think we are good to go in the following... maybe a decade?
Of course, if we are not at the very beginning of a new Great Depression or Nuclear WW3.
Hopefully, we are not, and it makes me feel rather optimistic.

Sources of the charts and data:
Finance
As I've mentioned, my freelance financial goals we unexpectedly met in 2022. Yet, those were gross income goals that didn't take into account my new reality where I live now.
This is the reality of high taxes and expenses.
When I was self-employed in Russia, my effective tax rate used to be about 7%. This made a big difference to what I have now in Portugal. Furthermore, I didn't have to pay rent because I owned my apartment.
Now I have to be very careful with keeping my income/spending/savings in order not to go down in balance accidentally. In fact, what I'm doing is a total reshaping of my personal finance management.
Another big kick for my finance was my unexpected relocation.
Having to re-purchase everything you've got at home in a very short period is a strong hit to the budget. Especially in my case when I hadn't planned or got prepared for it.
Plans for 2023
I would turn on the conservative mode for 2023 and
recover savings, investments, and emergency funds.
I don't want to sound too optimistic, but if the world economy doesn't collapse this year, I won't either.
Side Projects
The only side project I was involved in this year was relocation. It turned out to be a very resource-intensive thing, eating a lot of time, money, attention, energy, and nerves.
Unfortunately, it hasn't even finished yet.
Plans for 2023
I hope to finalize my relocation hassle and switch to something more rewarding.
I want to make and launch a small side project this year. Will do my best to find enough time for it.
Environment
I'd been planning my work-from-home setup upgrade for weeks.
Finally, I bought all the items and got them shipped: a motorized sit-stand desk, optimized storage, and racks for my minimal bonsai garden. I carefully assembled everything during one of the weekends and was happy with the result.
The sad story is that I only managed to use it for less than a month before relocation.
Unfortunately, I only have a single photo of what I got in the end which is actually not showing anything.
Plans for 2023
Now I'm in a new place and it's far from being fully furnished.
What makes things even worse, now I have a special kind of furnishing PTSD that limits my budget on pieces that I can only take with me in single baggage.
Desperately trying to fix it.
COVID-19
I think I've finally nailed the game against COVID-19.
COVID-19 was rather dangerous for my Mom, who is a little over 60, and HAZARDOUS for my Granny since she is 83. That's why since the very beginning of the pandemic my strategy was to lower the chances to get infected uncontrollably and not accidentally infect them.
The strategy only required me to be alerted about myself and contacts around and pause the family meetings on time and I also took tests occasionally.
I also pushed all my fam to be alerted and lower the number of contacts. I know that it didn't work at 100%, but at some rate, it did work for sure.
The goal was to win as much time as possible for a better situation with herd immunity, vaccines, treatment approaches, mild strains of the virus, etc. In other words, not to catch COVID-19 too early.
We had a plan, and we followed it.
Results
Eventually, I got infected. However, I DID NOT infect any of my family members or anybody else.
This was a small win as It also lowered the chances of infecting them afterward.
Then I got vaccinated within the recommended timespan after the disease which made me almost invulnerable to COVID and significantly lowered the chances of transmission to other people.
Finally, we've managed to win enough time to let my Mom and Granny get vaccinated and boosted within the most optimal period.
In the end, they caught COVID. BTW it happened at the safest time: about a month after the booster shot. Both of them recovered in about a week afterward without any drawbacks.
Travel
At the beginning of 2022, I wished to travel more.
Things got out of control right after the planned trip to the mountains at the beginning of 2022.
Two months of endless moves from one place to another taught me more about a digital nomad's life than nomadlist and nomadgate altogether.
My emergency relocation pathway guided me through Turkey, Greece, and Germany and then I got finally settled in Portugal.
Not exactly the way how I wished to travel more in 2022.
Hobbies
Minus one hobby this year. I don't have my small bonsai garden anymore. It's still alive and feels good, but I just couldn't take it with me.
TBH, I'm quite disappointed, because I was planning to grow my trees for decades.  Haven't thought about transportation though.
Sports
Skiing
For 2022 I was planning to make a massive sport-lifestyle breakthrough by diving hard into the snow and taking regular snow riding trips to the mountains with friends.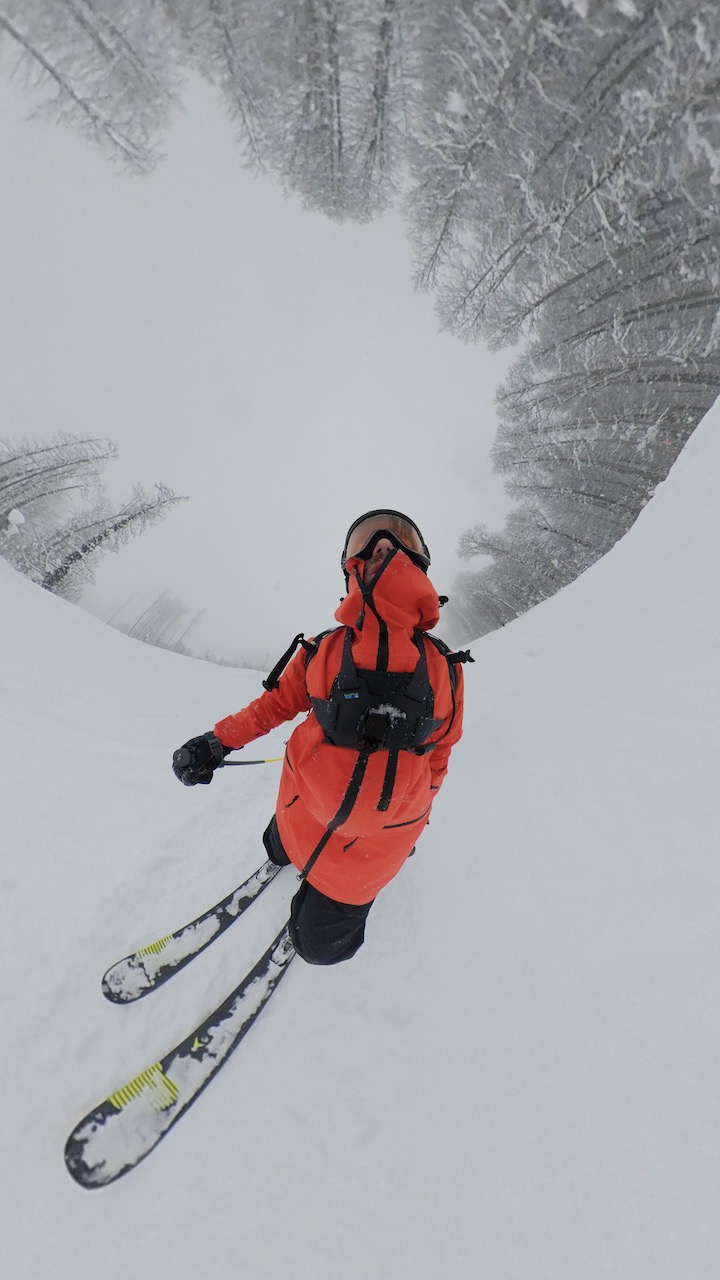 We've even managed to take the very first trip together.
Unfortunately, all my snow plans were ruined by the war outbreak.
The majority of my mates relocated to different places, scattered like particles after the big bang.
I've also relocated leaving all my equipment until better times.
Rollerblading
The most unexpected outcome of my relocation is that I returned to rollerblading.
Now I've got a skatepark not far from my place and a crew to regularly skate with and yes, I started to do it almost regularly.
In 2022 I skated more often than 5 previous years in total and I feel happy about it.
Hiking
Daily city walks and tiny hikes out of the city are still with me and got only better because of my new unbelievably beautiful location.
Plans for 2023
I would like to add little more consistency to the two things above. It has never been so fairly easy and frictionless to do as it's now. To achieve this I literally need to only add a weekly reminder.
I think I need to get prepared for the next snow season by bringing my equipment to my new place. It's not an easy quest because shipping from Russia now is expensive and rather problematic.
Portugal seems like an ideal location for outdoor adventures and it would be a bit silly not to capture the opportunity.  I'm seriously looking in the direction of some kind of outdoor activities, like cycling or running or maybe even surfing (offline).
Maybe something with an accent in endurance training.